One of the principles underlying our work on Editorially is portability: the belief that good content moves, from the writer's desk to the editor's inbox, and on to many different places for publication. On the web today, a single article may be published on the writer's personal blog, collected in an ebook, syndicated on several magazine or news sites, and reblogged across different platforms and communities.
The work to create that article — the collaboration among a writer (or writers), editors, fact-checkers, and so on — benefits from happening in one space. But once the words are ready to venture out into the world, they should be freed to move as wide and far as they can.
With that, we're introducing two new tools to Editorially: integrations with other services, and more export formats, both of which make it easier to move a finished work.
To start, we're supporting integrations with WordPress and Dropbox. Once you've authorized a connection to your WordPress or Dropbox account, all it takes is one click to send your document over. You can hook up as many different WordPress blogs as you like. Posts are passed over in draft mode, so you can then preview on your site and publish when ready. Use the Dropbox integration to backup your documents or for easy access elsewhere.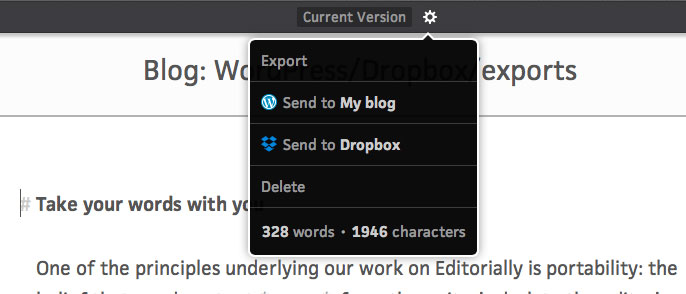 We've also added export options for ePub, MS Word, Latex, and rich text formats (in addition to the Markdown and HTML formats already available). One of the core values of working in Markdown is easy transfer to other formats; these new options take advantage of that.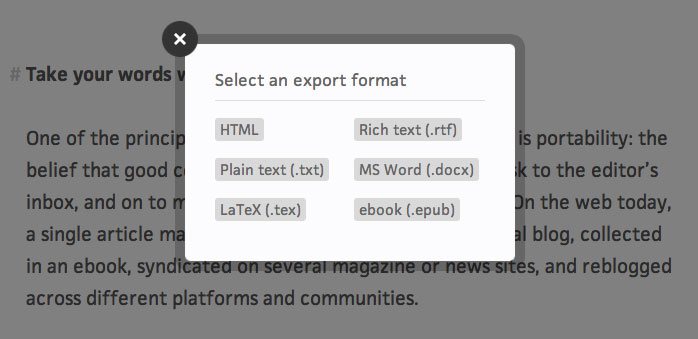 All of this is just a start: we have plans to add more integrations, additional export formats, and other ways to let you take your words wherever they need to go. Have a specific request? Drop a line to support@editorially.com.