We've released a whole slew of improvements to Editorially, all designed to make it easier to find and organize your work: tagging, sorting and filtering, and archiving.
Tags
Of all the feature requests we've received, better document organization has been near the top of the list. Well, we're delighted to deliver on that today: hop on over to your all documents page, and start adding tags to your documents. The tags you add to documents are for you only: so if you share a document with a friend or colleague, you can each tag it however you see fit and your colleague's organizational system won't impinge on yours.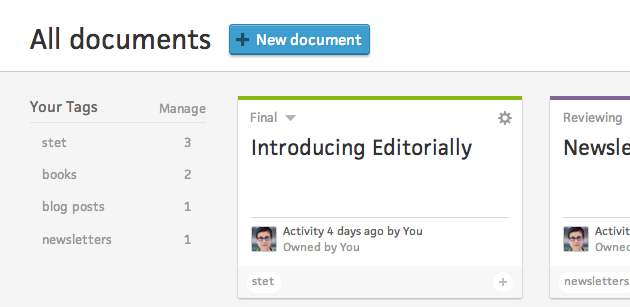 Sort and filter
From the beginning, Editorially's status tool let you signal what stage a document was in — be it draft, under review, or the always-satisfying final. But now you can filter to see only documents of a particular status, or sort by date or title. And we've added the ability to show only the documents you own, allowing you to focus on just your stuff.
These sorting and filtering options work in combination with tags. So you could, for example, see only documents that you own, with a status of draft, and tagged "blog." Your filter settings are saved across sessions, so if you leave and come back, you'll find things right where you left them.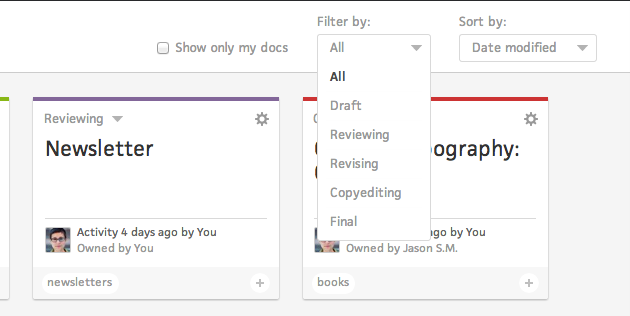 Archive
What happens after a document is final? (Or if you decide that particular draft didn't have legs after all?) Now you can archive an Editorially document when you're done with it, and safely tuck it out of the way. Archived documents remain available to you and your collaborators whenever you need them, but they won't clutter up your all documents page on each visit. You can unarchive a document whenever you need to and restore it to the all documents list.

We've got more to come, and soon, so stay tuned! And, as always, if you have questions or just want to share feedback, drop us a line at support@editorially.com.